The "Basler Kindernäscht" (kids nest) which is conveniently situated near the Marktplatz has recently opened its doors and welcoms kids between the age of 1,5 and twelve.
The "Kindernäscht" is a great alternative to bringing your children along to activities which are boring for them and stressful for you.  While you are doing your shopping or attending an appointment your children can play, listen to stories or make craftwork in a safe and stimulating environemnt.  Experienced childcare workers ensure that every child can have a good time according to their needs and interests.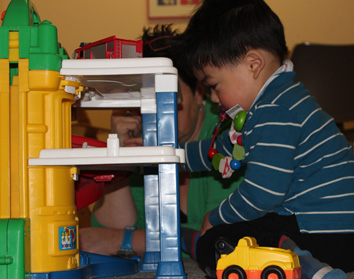 To book your child in simply drop in and at the same time get to know the staff and fascilities.  If you want to make sure they have a space for your child you can ring in advance.  Your child can attend as many times as needed, however please remember that the "Kindernäscht" is not an alternative to a regular daily care service.

Drinks (sirup and tea) are provided free of charge, snacks should be brought if required.  Apart from food your child should also bring house shoes or socks, and if applicable his / her bottle, napies and a change of clothes.
The center is open on Monday to Friday from 8 am till 6 pm and Saturdays from 9am till 5 pm.
It costs CHF 11.00 per hour for the first child and for every additional child it is CHF 9.00 per hour.